Chinese jade dragon pendant from the 20th Century. Translucent near "Ice" jade material. Fine carving with Ruyi and Lucky flowers coming out of the dragon mouth. 4.6 cm x 2.8 cm. Good condition with no damage.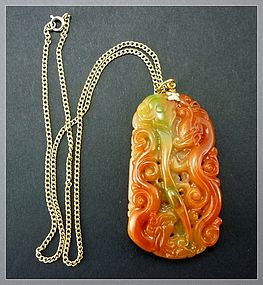 click for details
Jadeite in Chinese is called "Fei Cui". Originally, Fei is refer to color of a red bird and Cui is green color bird. In real world, true red color jadeite is rare. What people call red jadeite is mostly brown or light brown. To have untreated natural jadeite with red and green color together in one piece is more rare.
This colorful piece is a fine and beautiful Chinese natural untreated red & green jadeite pendent carved with Dragon and Phoenix...