click for details
A carved wood shabti figure with nice chiselled features and
traces of painted bitumen to the surface. Small piece of an
old label on the back.
A comparable shabti is in the Petrie Museum, see: UC57707
Date: Egypt, New Kingdom, Ramesside Period 19th to 20th Dyn. c. 1293-1070 B.C.
Material: wood
Size: ca. 18,5 cm; c...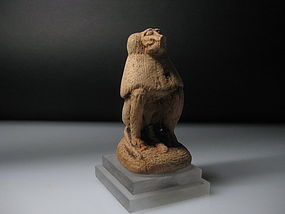 click for details
This is a really nice wooden figure of a squatting Baboon
as an incarnation of the god Thoth.
Date: Egypt, Late Period, 26th - 30th Dynasty, circa 664-332 B.C.
Material: Wood
Size: length: ca. 5,3 cm; c...