LBJ 6" Dessert Plate: President & Mrs. Lyndon B. Johnson. In excellent condition. No markings or print on the back.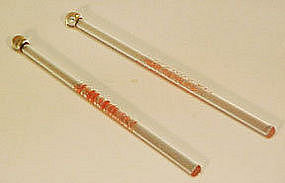 click for details
I have 2 glass swizzle sticks, each 6" long with Red printing on them: "G.H. Allen Co., Bar Supplies, Pine & Dyer Sts., Providence, R.I."

If purchasing multiple items, or internationally, please contact seller before purchase (different shipping rate).