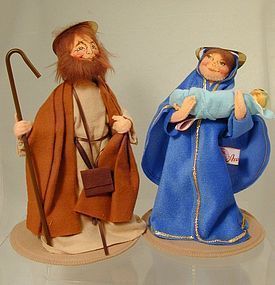 click for details
Mary and Baby Jesus - Open eyes, smiling, brown hair, blue velour dress/cloak with gold trim, holds baby Jesus wrapped in a light blue flannel blanket, gold mylar halo, beige felt stand, brass plaque which is signed by Annalee. Plaque is #154. Tagged. Ht. 10 inches. Circa 1996
Joseph - Open eyes, brown beard and hair, gold halo (unglued), dark brown satchel, holds shepherds staff. Tan robe, dark brown blanket wrapped over shoulders. Brown belt tied at waist. Beige felt base...
Extremely Rare Poupee (doll) from the Louis Vuitton Toy Shop. Doll is pre-1941. Made from a type of plastic (celluloid?) with delicate hand painted features, dressed in a detailed regional costume of Bretagne (Brittany). Her original hang tag reads Je m'appelle/DONATIENNE/mon pays est/Batz sur Mer/en Bretagne which roughly translated is "My name is DONATIENNE and my land is Batz sur Mer in Brittany". Batz-sur-Mer was part of Brittany until 1941 when it was separated by the Vichy government...
Madame Alexander Portrait doll of Madame Alexander, First Edition 1984. 21 inches tall. Vinyl. Two piece pink satin ball gown with organza cape, beaded purse, shoes, diamond ring and earrings, Complete and all original. Condition is excellent with original Box and hang-tag.