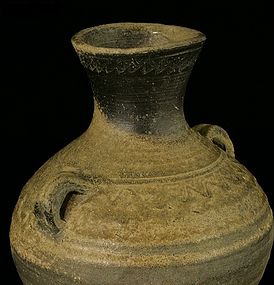 click for details
Description:

A stoneware jar was preserved in an original condition.
Being applied with olive-green glaze on the the body, the jar or Hu was molded with a trumpet-like mouth and stand on a flat bottom.
Two well- mold loops were nicely pressed to the body as handles.
Decorations of incised wave bands were around the mouth while grooved patterns were carved around the body in the middle segment.
Black hue was affected to the slender neck and the mouth portion...
Description: A rare tripod steatite censer was made in Tang dynasty. With dark gray tone, this censer was excavated with light gray incursions. A globular body was held by three foot in beautiful proportions. An earlier collection was published in " Early Chinese Miniature" by China Institute in America. Date: Tang Dynasty (AD618-906) Material: Steatite. Body Width: 6.5cm Height: 4.7cm Condition: Good, except one small scratch.