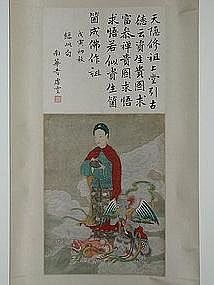 click for details
Hanging scroll with the image of Buddha standing on a dragon fish, holding a iron bowl in his hands. Next to him a garuda deity folding his hands, while holding long ceremonial sword across his arms. The Buddha and the fish in the water, bird deity standing on low swirling clouds. Around the shoulders a red mantle with manji motive in silver with traces of gold. Also gold and silver on details of the sword. Brilliant colors on paper. China, 18th century. Possibly Korean. Mounted above the painting is a inscription, describing the subject and dating the piece to a cyclic year. Ivory scroll ends. China, possibly Korea, 18th century.
Painted area: 15 x 11 2/8 in. (38.6 x 29.1 cm). Colophone: 9 13/16 x 11 3/8 in. (25.2 x 29.3 cm). Total length of mounting: 78 3/8 in. (200.5 cm)
Missing areas along edges and in the painted area, backed. Over all good very condition.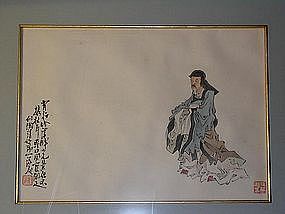 click for details
Portrait of a man standing, dressed in a long and wide garment. The head covered with a dark cloth. On the left inscription, seal and date. On lower right red seal of Ren Xiong (Jen Hsiung). Black ink and colors on paper. Framed.
Inner mat dimensions: 8 ¼ x 11 ½ in. (21 x 29.7 cm); frame: 24 x 16 ½ in. (61.6 x 42.5 cm).
Good to very good condition.
Ren Xiong (1820-1864). He was one of the 'Four Ren'. He is the father of Ren Yu (see stock # 10310).