click for details
Two of the lucky gods Daikoku and Ebisu carved in soft hinoki (cryptomeria) wood with some touches of color. Daikoku standing on two rice bales with his hammer and bag, Ebisu sitting with a carp under his arm and formerly with a fishing rod in his hand. They symbolize the deity of agriculture and rice (Daikoku) and the god of the ocean and of the fishermen (Ebisu). Also, they are considered to be father (Daikoku) and son (Ebisu). We find then often in kitchens in the function of kitchen gods. Very crisp carving. Signed at bottom of pedestals: Takamura Toun saku. Japan, late Edo period / early Meiji era.
H 6 ¼ in. (Ebisu), 6 in. (Daikoku).
Ebisu's rod missing, tip of carp's tail fin chipped.
Takamura Toun (1825-1879), Edo/Tokyo. He was a bakumatsu wood sculptor of Buddhist statues and mainly known for being Takamura Koun's teacher. Apart from Buddhist sculpture he carved netsuke and okimono for the western market.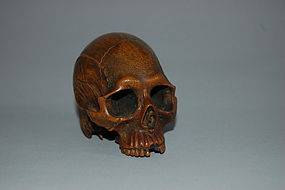 click for details
Okimono in the form of a highly detailed human skull. Boxwood, partly stained black. Unsigned. Japan, Meiji period, 19th century.
Height: 1 7/8 inch; width: 2 ¾ inches (ca. 4.7 x 7 cm).
Excellent condition, beautiful patina.
Glass ball on a wooden stand of finely carved and undercut work. The base has been carved in the shape of high foaming waves in which fishes are swimming, and that carry the jewel of the tides. The waves inlaid with little pieces of mother-of-pearl and gold lacquer. Ryujin, the Dragon King, held this jewel to rule the tides. Overall height 7 ¼ inches. Japan, Meiji period. Ball in near-perfect condition (one tiny, shallow scratch), the stand with some repairs and some missing tips on the waves.