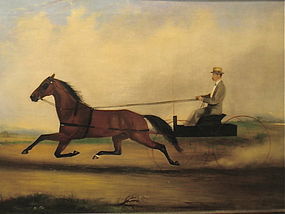 Trotter Horse gentleman and wagon Van Zandt 1872
---

Please refer to our stock # 394 when inquiring.
An original oil on canvas of a early American trotter horse and buggy by Thomas Kirby Van Zandt oil on canvas signed and dated measuring approx. 24 x 30 in good antique condition.
Biography
Van Zandt, born in New Scotland, Albany County, New York in 1814, was a well-known painter of the horses of wealthy New Yorkers, including Leland Stanford. The Stanford Museum has a half dozen of T.K. Van Zandt's work in its collection. In 1859 he was awarded a silver medallion for "Best Animal Painting in Oil" by the New York State Agricultural Society. His son, William Garrett Van Zandt, was also known for his equine subjects. A second son, Bleecker (1855-1915) was a sculptor. Thomas Kirby Van Zandt died in 1886.
Similar Items from this seller