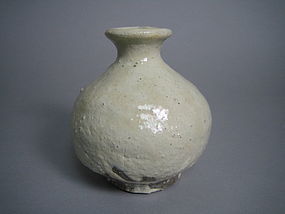 Tokkuri by Watanabe Aiko (h)
---
19,000 yen - EMS shipping included
This wonderful tokkuri (sake pouring vessel) was made by Watanabe Aiko, one of the few contemporary Japanese women potters. Although her work is based on traditional shapes and techniques, her sensibility and mark can certainly be felt and recognized. The smooth white texture of this piece invites hands to hold it, and its moving shape endlessly charm with its enchanting touch.
Kindly inquire if you have any question.
Watanabe Aiko, a recognized artist and one of the master potters of Iga, was born in 1971 in Osaka. She graduated from Kyoto Saga University of Art in 1992 and went on to study Shigaraki pottery. In 2001, she established a kiln in the city of Iga, a historical pottery center, not far from Kyoto. She now has three kilns there and exposes regularly in cities like Tokyo, Osaka and Kyoto. She has been featured in the Fall 2010 issue of Honoho Geijutsu (the leading Japanese publication on ceramics).
The tokkuri is signed and in perfect condition. It will be shipped in a signed box (please allow a few weeks before the box is made and signed). Dimensions: 9.5 x 10.5 cm (3.8 x 4.2 in); weight: 335g (11.7oz)
More pictures available on demand. The listed price includes EMS shipping. Please make sure you read my Sales Policy Page and kindly inquire if you have any question. Some of the pieces presented in this catalog may be acquired through an interest free payment plan.