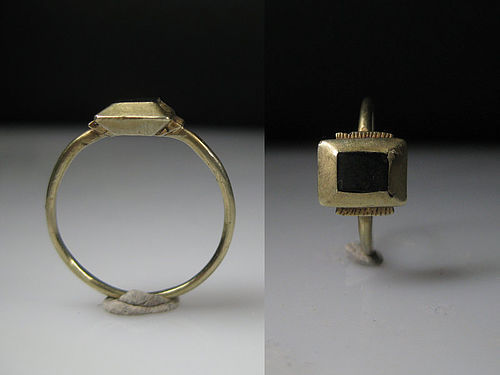 click for details
Decorative Medieval gold ring with a projecting facetted rectangular bezel,
set with a black stone. There is a small transverse ridge on each side
of the bezel at the junction with the hoop, decorated with transverse engraved lines.
Date: Medieval, c. 13th - 14th century A.D.
Material: Gold, Stone
Size: c. 19,7 mm; c. 0.78 inches
Weight: c...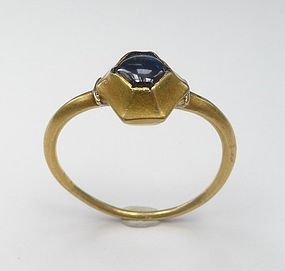 click for details
Gothic Medieval 14th Century Gold Sapphire Ring
A so called tart mold ring composed of a slightly tapered hoop with rounded rectangular or
D-shape section and a hexagonal pie shaped pyramidal bezel set with a deep blue sapphire cabochon.
The sapphire shows its natural shape (being cut from a hexagonal crystal) which has only been slightly rounded
and polished - a common fashion in Medieval time probably based on the idea not to disturb the
god given natural shape of the...