click for details
A massive and superb sancai (three color) glazed pottery model of a Taoist official, among the largest known pottery models, China, Tang Dynasty, 618-907 AD.

The majestic Dignitary is here depicted in court robes in Sancai Technique of yellow and green flaze. He is standing on a large pedestal in an observant position, dressed in traditional sancai glazed robes typical of this epoch...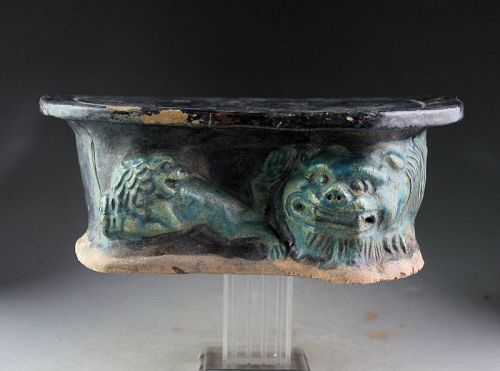 click for details
A highly interesting and attractive stoneware ceramic pillow, China, Dating to the Ming Dynasty, 1368-1644 AD.

The pillow dark blue-aubergine glazed and decorated with a dog(?) leaping away from a Dragon or Lion, all in Torquise glaze. Very attractive and beautiful piece, that we will miss when it's sold!

Size: 24 cm. wide, 15,5 cm. deep and 9 cm. in max height...