click for details
Ancient Near Eastern Seals from the Kist Collection: Three Millennia of Miniature Reliefs (Culture and History of the Ancient Near East) (Hardcover).

An important book of a fine collection in hardcover.

Condition: Used, but basically as new.

Amazon sells this used from $462 and new at $934.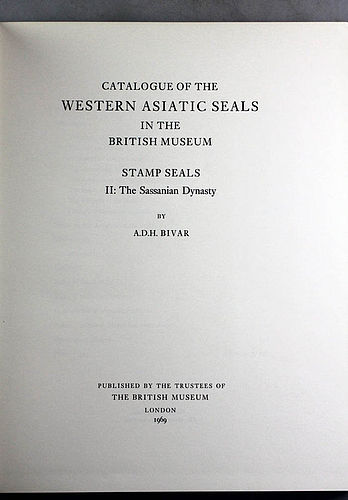 click for details
Catalogue of the Western Asiatic Seals in the British Museum Stamp Seals II: The Sassanian Dynasty Hardcover – 1969. by A. D. H. BIVAR (Author).

The British Museum, London, 1969. Hardcover. Navy cloth/boards with gilt lettering. 145 pp. plus 45 plates. All illus. in bw. The study of the Sassanian seals with untraced items, arrangement and indexing, chronology, inscriptions and paleography, shapes and purposes, subjects, and literary evidence for the seals...