A rare Chimu woodcarving from Peru, ca. 1100 – 1450 AD. The piece is 7" long and is completely covered with carved fish, birds and feline heads. It is hollow, drilled from both sides and shows signs of extensive usage, most likely as the handle of a ceremonial object. Great find!
A nice Moche III portrait head from Peru, ca. 200 - 450 AD. The vessel is 9-1/2" high and depicts a specific individual with distinct and strong facial features used to depict a specific individual, who has small, paint enhanced ornaments molded into the ears. The red clay was at one time completely painted with a thin layer of highly burnished red slip, which has minor deterioration in a few areas. An excellent example.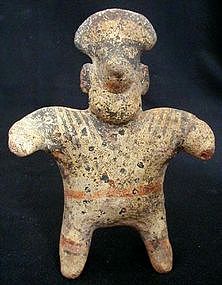 click for details
This figure was stolen on December 11, from the Bella Gallery in Great Barrington, Mass., where it was part of a collection being exhibited.
A gorgeous Nayarit polychrome male, 6" tall. This Ixtlan del Rio variant, ca. 200 BC - 350 AD stands on bifurcated feet and is lavishly painted overall. An excellent example. Intact.