A fine Pihuamo figure from West Mexico, ca. 300 BC – 300 AD. This seated male is 6" high and depicts an individual with hands resting on the knees. He is wearing a simple headdress and is adorned with large ear ornaments and bracelets. Intact, with good mineral deposits. Museum deaccession.
A superb Colima bowl from West Mexico, ca. 300 BC – 300 AD. This choice Comala phase example is 7-1/4" in diameter and is decorated with a trio of serpents, executed in relief. The slip is highly burnished and shows good mineral deposits, with strong calcification on the inside.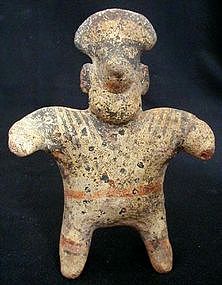 click for details
This figure was stolen on December 11, from the Bella Gallery in Great Barrington, Mass., where it was part of a collection being exhibited.
A gorgeous Nayarit polychrome male, 6" tall. This Ixtlan del Rio variant, ca. 200 BC - 350 AD stands on bifurcated feet and is lavishly painted overall. An excellent example. Intact.