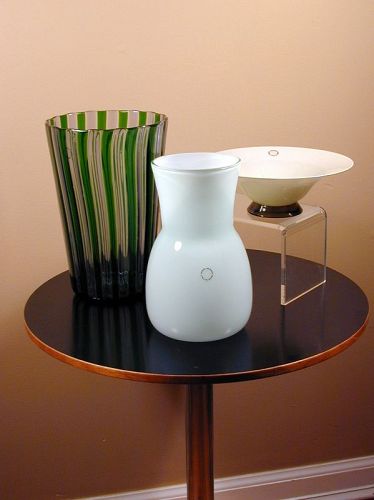 click for details
A collection of three (3) pieces of Venini glass from 2002. All three pieces have the round clear Venini Murano Made In Italy label to the side, and all are signed venini 2002 on the base. There are no chips, cracks or repairs to any of the pieces.
The collection contains the following pieces:
A 9 inch (22.9 cm) tall 'a canne' vase in green, crystal, and light blue stripes...
Venini MAGI vase designed by Rodolfo Dordoni. The vase; done "a doppio incamiciato"; is three layers of color: inner layer is rich gold, next is lattimo, outer layer is a rich transparent brown. The surface of the vase has been worked in two distinct treatments; one side is battuto/inciso and the other acid treated to give a frosted effect. The overall effect is subtle but exciting...