Vintage, circa 1970, World Time Travel Clock produced by Hermes, Paris. It is perfect working order, as it has been recently serviced by Hermes in Paris. The clock would be an excellent addition to any clock or watch collection, or to the collection of lover of Hermes. The clock measures 3 inches (7.6 cm) in diameter and 1 3/4 inches (4.4 cm) deep. Has dials with engraved markings showing the names of major cities, a ring with markings for day/night (am/pm) time line...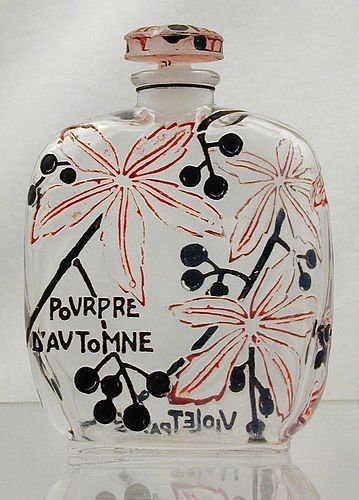 click for details
Lucien Gaillard Pourpre d'Automne Antique Perfume Bottle C 1922
Rare perfume bottle from the 1920's created by jewelry designer Lucien Gaillard.
The bottle features painted red poinsettia leaves, and black stems and berries over the entire surface of the bottle...