click for details
Ca. 1850-1900s, late 19th century
Late Qing Dynasty
Hardwood (possibly huali rosewood), and porcelain with underglaze cobalt blue
Diameter: 40 cm / 15.7 in, height: 40.9 cm / 16 in
Weight: 17.6 lb/ 8 kg
From the estate of Mary McGrory, of Lone Jack MI

A gorgeous and meticulously crafted 19th century stool or tea table, of circular form with curved concave legs. The wood, densely grained and richly hued, is possibly huali rosewood...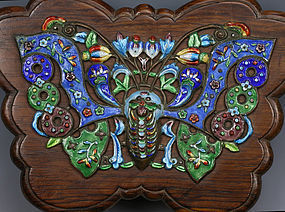 click for details
1890-1920s
Late Qing - Republic period
Hardwood with enameled bronze
Length: 18.6 cm (at widest point)
Width: 13 cm
Height: 3.5 cm
From a Baltimore, MD estate

Condition: Three age cracks to bottom, otherwise good.