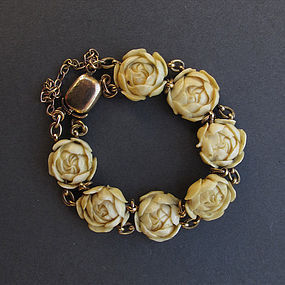 click for details
Early 20th century
14K gold with carved flowers
L: 18.5 cm / 7.3 in, D: 6.5 cm / 2.6 in
From a Marine county, CA collection
Weight: 21.693 grams

A gorgeous 14K gold bracelet with inter-linked carved flowers (bone?), which are charmingly yellow with age patina. Each flower measures about 1.7 by 1.7 cm, and were individually hand carved (no two are exactly the same). This bracelet fits a wrist of diameter 6.5 cm or smaller...