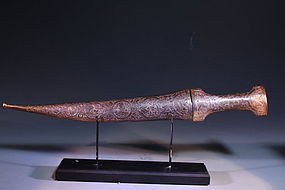 18th c. Persian Dagger and Scabbard,
---
$2359, OR BEST OFFER

Persian, Zandieh Dagger and scabbard. The Zand dynasty (formally known as the Zandieh dynasty) ruled southern and central Iran (1750–1794) in the 18th century. The hilt and scabbard decorated with animal and floral pattern, each side of hilt and scabbard bears car-touche of Zandieh prince and princess, lavishly decorated with gold inlaid. Size: Overall length is 16 inches. Condition Report: Good condition with wear to the gold inlaid.