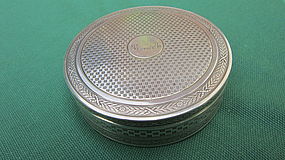 click for details
An Emil Puirforcat French first standard (.950) silver round box with a gold washed interior. The surface of the exterior covered with engine turning and engraved wreaths punctuated with blossoms. 3 3/8 inches (8.5 cm) diameter and 1 inch (2.5 cm) tall. Weight approx. 154 grams.
Marked on the interior of the lid with the first standard mark for after 1838, the "EP" touch for Emil Puiforcat and the number 2308...
A late 19th or early 20th century sterling silver sauce ladle with a round bowl, marked on the back of the handle, "STERLING, J.E. CALDWELL & (the rest of the punch missing) PATENT." The front of the handle decorated with a long tailed bird (Jay?) in foliage. On the back is more foliage, the marks, and the engraved initial "F." Approx. 7 inches long. Approx. 60 grams. Condition: Some wear. Decoration still crisp. J.E. Caldwell were a major Philadelphia maker and retailer.