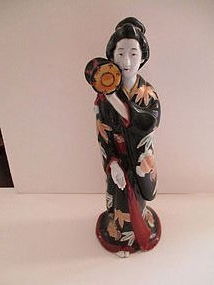 click for details
A well molded figure of a geisha holding a drum on her right shoulder with her left hand. Her open right hand is ready to rise and beat the drum. Her black kimono with red edges is decorated with bamboo fronds and a fruit or flower, both with gilt highlights. Her red obi is painted with colorful clouds. Her hair is elaborately piled on top of her head. 9 ¾ inches (25 cm tall).
Condition: No chips, cracks, hairlines or repairs...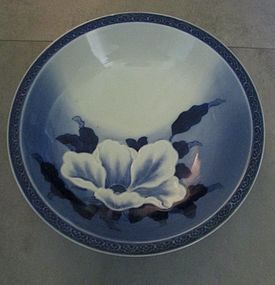 click for details
A shallow bowl with a molded the white flower (magnolia ?), an everted rim and a high foot. The fine porcelain, the comb decorated foot, cloud border on the rim and the stylized flowers on the outer side of the bowl are typical of Hirado porcelain made in the style of the earlier Nabeshima kilns. All of the decoration, including the characters on the bottom, is underglaze blue. 8 ½ inches (21.5 cm) diameter and 2 inches (5 cm) tall.
Condition: No chips cracks or repairs...