click for details
Two closely related soft metal (bronze or brass) tsuba from Edo period (1603-1867). These are from the 19th century. Each is approx. 2 5/8 inches long and 2 3/8 inches wide (6.5 X 6 cm). Both depict an eagle hunting two small birds in tufts of grass on one side. On the other side the eagle is poised over an empty landscape. Both with gilt highlights.
Condition: good condition with minor scratches, uneven oxidation, and wear. The gilding is worn in places, but overall good condition.
...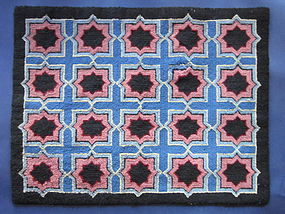 click for details
A tightly hooked rug, American, perhaps Amish, from the 1930's. Wool on burlap with hand attached black cotton backing. 29 inches long by 22 inches wide. The unusual free hand pattern shows black stars with pale blue crosses in an integrated geometric pattern.
Condition: Overall excellent condition with one professional darned repair on the border between one star and cross (see close up image). One tiny loss of a hooked tuft, a little wear at one edge otherwise very clean with good ...