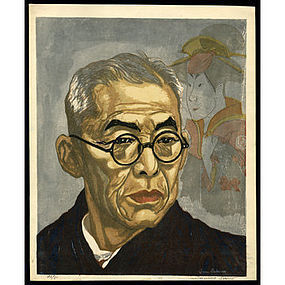 Jun'ichiro Sekino Woodblock - Kichiemon Nakamura
---

Please refer to our stock # 220444 when inquiring.
$3,000
Japanese woodblock print by Jun'ichiro Sekino (1914-1988), titled "Kichiemon Nakamura", edition 26/30, 1946. The image measures 21 3/4 x 17 3/4 inches.
This print is in good condition, with minor printing smudges at front margin and light soiling to front margins and on reverse.
For a zoomable image or other works by this artist, please contact us or visit www.floatingworld.com