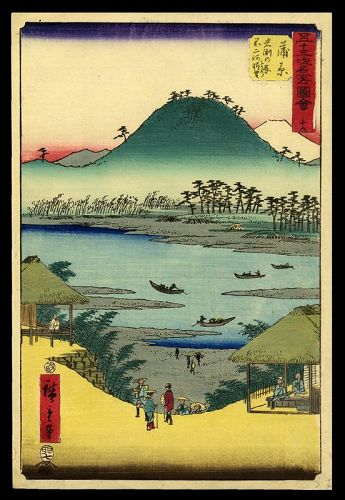 Authentic Hiroshige Woodblock Print from Upright Tokaido - Kambara
---

Please refer to our stock # 281080 when inquiring.
Siold
Please contact us or visit FloatingWorld.com for additional works by this artist

Original Japanese woodblock print by Ando Hiroshige (1797-1858), from his Upright (Vertical) series depicting the 53 Stations of the Tokaido Road, 1855. This design shows Kambara Station, and is plate 16 in the series of 55 prints. During his prolific career, Hiroshige often returned to scenes of the way stations along the land route between Edo (Tokyo) and Kyoto, known as the Tokaido Road. The Upright Tokaido series was his final interpretation.
The image measures 13 1/2 x 8 3/4 inches, plus margins. The colors are very fresh, although there is a light backing. Given the intensity of the purple pigment used in the sky, this impression was most likely printed towards the end of the Edo period.
For additional information about the artist, and links to other works by Yoshitoshi, visit this link:
https://floatingworld.com/artist/hiroshige-ando-1797-1858/
For additional images from the Upright Tokaido series, visit this link
https://floatingworld.com/19tokaido/