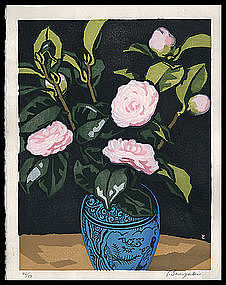 Early Tomoo Inagaki Woodblock - Camellias
---

Please refer to our stock # 151544 when inquiring.
$800 - RESERVED
Original Japanese woodblock print by Tomoo Inagaki (1902-1980), titled Camellias, 1942. This design is illustrated at plate 75 of "Complete Woodblock Prints of Tomoo Inagaki", Keishosha, 1982..
The dimensions of the print are approximately 14 1/4 x 10 7/8 inches, plus margins. The print is in very good condition, aside from some light creasing in the bottom margin and residue from the original mount on the reverse corners.
Although perhaps best known for his humorous designs of cats, Inagaki spent his early career illustrating various floral subjects. This print is a wonderful example of his early sosaku hanga technique.
For additional works by this artist, please contact us or visit FloatingWorld.com