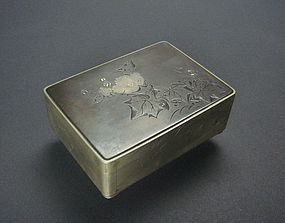 Japanese Katagiri-bori Metal Box
---

Please refer to our stock # 1236 when inquiring.
Sold, Thank you

White copper box with Shibuichi (silver-copper) plate on the top of the lid.
The Shibuichi plate has design of mallow rose and wild chrysanthemum with Katagiri-bori (one side cut carving), and with gold and silver inlay.
The design of Japanese bush clover and silver grass are depicted with Katagiri-bori along the sides.
A signature of Katagiri-bori artist is chiseled on the lid and a metal-workers' signature is chiseled on the side.
Date from the late 19th to the early 20th century.

Measurements about : 5 1/4" (13.3 cm) wide, 3 3/4" (9.6 cm) deep and 1 7/8" (4.8 cm) tall.
Weight about : 515 grams.
It is in good condition.