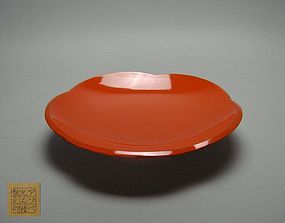 Japanese Negoro Style Lacquer Bowl
---

Please refer to our stock # 3111 when inquiring.
Sold, Thank you

This Negoro style bowl in the shape of plum flower was made by Asobe Koseki, lacquer artist in Kyoto.
Negoro-nuri is a technique, vermillion red over a base of black lacquer ground, and due to polished layer of vermillion red lacquer, black lacquer partly come to the surface.

Measurements: 12 7/8" (32.6cm) wide and 2 5/8" (6.8cm) tall.

It is in good condition and comes with original wooden box.