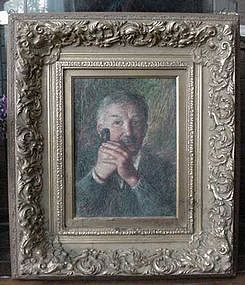 Henri Zo "Man with Pipe"
---

Please refer to our stock # 310 when inquiring.
Henri Achillo Zo, French, 1873-1933, Oil on Canvas Board,16" by 12", signed lower right, in excellent condition, circa 1920-30,. This painting is a very rare example of the pointelist technique. The intricate and swirling brushstrokes or elongated points of paint merge magically, using all of the primary colors in an exquisite and sophisticated manner to create this intelligent portrait. There is a hint of a garden behind the man and the portrait is so intimate that we feel we are talking with him. Zo has excellent auction records with very small paintings selling for $3000. This is one of his masterpieces.
Similar Items from this seller