Great hallmarked art deco 14K Gold ring with two rows of small, faceted, sparkly diamonds: one row on each side lining a tall black onyx cone. Probably European. 18 diamonds in all. It is a size eight, but could be resized by a jeweler. Is stands over 3/8", or 11mm, tall above the finger. Marked "MG, 14K, 585, 4." Excellent vintage condition.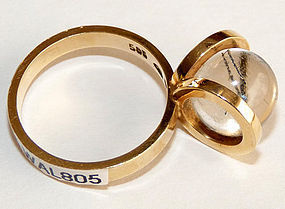 click for details
Danish Modern 14k gold ring by Jens Asby, Denmark, 1960s. The looped design of the setting perfectly highlights the glowing reticulated quartz sphere. The stone is an undrilled sagenitic quartz, which is clear with black inclusions. The ring is marked with the Jens Asby hallmark, "585 CFH DENMARK HANDMADE". Very good vintage condition.

The sphere measures 10mm. The ring measures 3/8" north to south, sits 1/2" up off the finger and weighs 6.3grams. It is a size 7 and can be sized...
This funky 14K gold ring is beautifully made, with a weighty band gracefully holding the biomorphic shape. The table of the ring holds a large green malachite stone, which is surrounded by small natural diamonds which are not chips, but fully faceted. The diamonds are backed by white metal, probably white gold, giving the ring increased color and contrast. There are approximately 24 little diamonds, and they sparkle brightly in the sun. Marked 585 and 14k. Currently a size 7...