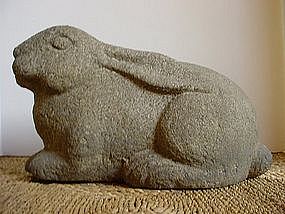 Japanese 20th C carved granite rabbit garden decoration
---

Please refer to our stock # DM-18b when inquiring.
STOLEN 10/17/08 - PLEASE CONTACT IF FOUND!

Japanese 20th century carved granite stone rabbit garden decoration. The rabbit is nicely carved with nice detail and expression. The laying rabbit is 9" tall, 14 1/2" wide and is about 18 1/2" long. Carved from solid granite. Please see the standing carved granite rabbit as well, DM-18a.