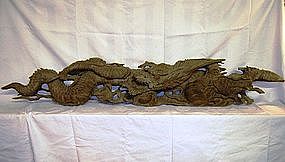 Japanese Taisho Period Carved Wooden Dragon Ranma
---

Please refer to our stock # E2-22 when inquiring.
STOLEN 10/17/08 - PLEASE CONTACT IF FOUND!

Japanese TAISHO Period carved wooden RANMA of dragon. The dragon is beautifully carved in high relief and with great detail. The back of the RANMA is also carved and has a rectangular placard with the inscription: TOKYO SHINTOMI-CHO, CHOUKOKU NIN, TAISHO SAN NEN NI GATSU, GOTO SUKEYOSHI, which translated means, Shintomi Town of Tokyo, presently the Ginza area of Tokyo, February of the 3rd year of Taisho (1915), carved by Goto, Sukeyoshi. The RANMA measures about 79" long, 12" tall and 6" thick.