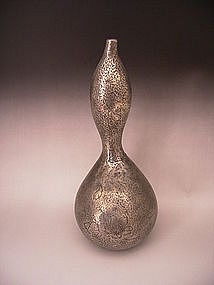 Japan E. 20th C. Silver Gourd Vase - RECOVERED!!!
---

Please refer to our stock # JY-11 when inquiring.
Recovered But No Longer Available

Japanese early 20th century silver gourd shaped vase. The vase has a single cherry blossom and bud, as well as a number of single cherry blossoms petals carved into the vase. The carving is beautifully done with precised detail and form. Signed by artist, MITSUHARU, on bottom. By well known metal artist, KATSURA MITSUHARU. Born KATSURA YONEJIRO in Tokyo in 1871. In 1882 he became a pupil of Toyokawa Mitsunaga of the Yanagawa School. Yonejiro eventually took on the artist name Mitsuharu. He became independent in 1898 and opened a studio in the Asakusa district of Tokyo. He went on to become one of the foremost metal artists of the Meiji, Taisho and Showa periods. This vase comes with TOMOBAKO, original artist's box. The vase measures 9 3/4" tall and 4 1/4" in diameter at the bottom.