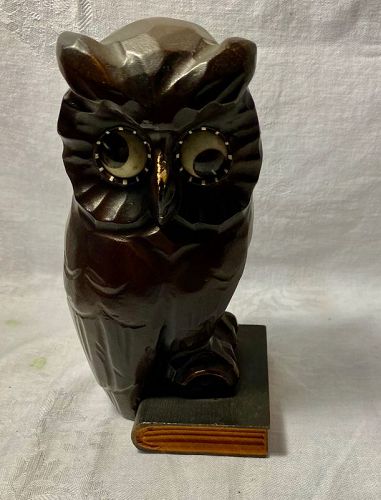 VINTAGE GERMAN SINN (OSWALD) REVOLVING EYES NOVELTY CLOCK - OWL
---

Please refer to our stock # 61 when inquiring.
A vintage revolving eyes novelty clock the movement is marked Sinn, Germany, which is a watch company. Instead of clock hands the eyes are used to denote the time. The left eye is the hour indicator the right eye is the minutes. Both eyes have a marker and there are markers on the area around the eyes that are substitutes for the normal numbers. The time is read by the location of each mark on the eye. Many of these clocks the eyes are not properly in sinc.While the left hour eye is at the twelve position the right minute eye will show either before twelve or shortly after twelve.This clock is in the shape of an owl. The clock does not work, the spring is broken. Measures 8 1/2" tall and 4 1/2" wide.

This just sold on ebay as I am listing it here!!! OMG. Well certain items sell within minutes. My prices are fair so that must be the reason.