click for details
Description:
Water color on silk, a fine painting of swimming fish with swirling weeds. Registered Qing painter Zhang-can.

Nien-Nien-Yo-Yu, is a popular Chinese proverb usually used in the new year's celebration. Yo-Yu, means Having Fish or Abundance.

Then my clients, you will know how nice the metaphor will be - if you hang a painting of fish in the room in this Chinese New Year's season!

Nice painting accompanied by a lovely poem...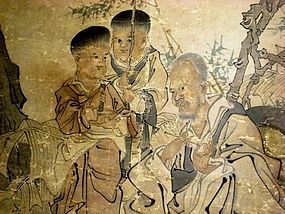 click for details
Description: A full scale(quan-kai) paper painting of ink and colors was from a famous Qing painter Ren Xun(1835-1893).
Well rendered, the figures and scenes were finished by excellent maneuvering of the master painter's brush strokes.
Defects were observed though, the ancient painting had been well restored and framed by a master Chinese painting restoring expert Lin Mao Long who have done a lot of works for the Palace Museum of Taipei.

Date: Qing Dynasty(1835-1893).

Dim...