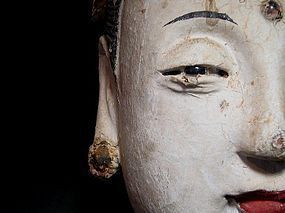 A Stucco Head of Bodhisattva of Song Dynasty(12th C.)
---

Please refer to our stock # lot326 when inquiring.
Sold

Description:
A rare stucco head of Bodhisattva was preserved in very good condition.
Exemplifying the serene beauty of Song sculptural art, the deity's head dress was an ornate tiara which had been partially damaged.
In holy facial expression, the Bodhisattva was molded and carved by the features of a Chinese lady.
When applied with white pigment on the face, the Bodhisattva was decorated with glassed eyes.
A glass urna was set on her forehead.
Like the smile of Mona Lisa, the ancient orient deity radiated her kindness and mercy of love with her subtle smile.

Date: Southern Song to Early Ming period(AD1127-1398),

Height: 42cm (including stand).

Condition: only one restoration on her left earlobe.