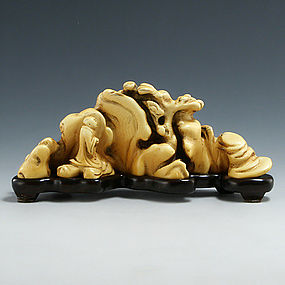 An Elegant Ivory Brushrest of Qing Dynasty
---

Please refer to our stock # lot648 when inquiring.
SOLD

Description: An ivory brushrest was in a fine look.
Depicting the mountain view and a monk-like figure which were in characteristic simple form of early Qing periods, the ivory piece was well rendered by affluent carving skills.
The enduring old and warm patina was preserved on the surface when darken adhesives were kept in the crevices due to age.
It was kept in a perfect condition and was fitted with a later made wood stand.

Date: Late Ming to Early Qing periods, 16th/17th century.

Width: 12.8cm.

A CUSTOM-MADE SILK BOX IS INCLUDED.
Similar Items from this seller