click for details
A fine ancient nephrite jade ring offered from a private New England collection, collected 20-30 years ago. This ancient 3.5" diameter ring was undoubtedly highly prized as it possesses three remarkable ancient bronze repairs- highly unusual and unique collecting opportunity. From the late Neolithic to Bronze Ages,Qi Jia culture, 2000-1000 BCE. Provenance: collected in Gansu Province prior to 2005...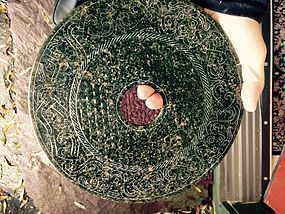 click for details
China, an imperial jade Bi Disk, 9.5" diameter, Han dynasty(2200-1700 BCE)
the well polished large round ritual jade of medium green color finely incised with three registers including two registers of animal mask decoration separated by a register of cross hatched "grain" pattern seperated by thin rope patterns the whole evenly toned.
Jade bi and cong are regarded as cosmological symbols and as signifiers of status and wealth...