click for details
Early New Zealand Watercolor (one of pair) , Raworth, William Henry, 1820-1905, "Ohains Bay, Banks Penninsula" old titled fragment from old backing attached to new backing, Frame: 20.5"x26.5"; Site: 12.25" x 18.25", signed lower left, fine quality
PROVENANCE: acquired from an old New Zealand auction in 1990's
LIFETIME GUARANTEE OF AUTHENTICITY: All of our Asian works of art come with our Lifetime Authenticity Guarantee. This guarantee never ends...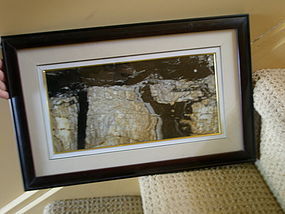 click for details
A rare and lovely China Contemporary Dreamstone Painting, "Moonlight Reflections" , sometimes referred to as a dali dreamstone, frame size: 13"h x 21"w ; site: 7.5" x 15". Lifetime guarantee of authenticity.
Known in China as a "moonlight" stone, this rare example originates and was carved out of a rare black striped stone boulder originally found along an eroded stream bed high in one of nineteen Dali mountains known as "Guan Yin" mountain...