A well crafted, highly detailed sterling silver insect brooch with opals on the wings, a chrysoprase body and onyx eyes. Measures 1 7/8" long and 1 5/8" at the widest. Marked on the underside with a conjoined 'SJ' or 'JS' logo and 925 for sterling. Has an earlier 'C' clasp which holds securely. Included is the original box with the same hallmark. Box also has a maker's mark, 'Jorge St?'. We were unable to read the last name and could not determine the artist...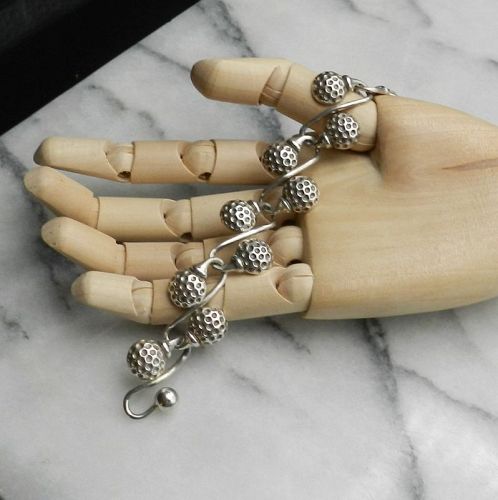 click for details
A vintage hard to find sterling silver bracelet with repeating golf balls on tees by Angela Cummings who designed for Tiffany & Co. Signed Cummings Sterling on the back.
Measures 7 1/4" long and 1" wide. Has a clasp that hooks securely.
Fine condition. Quality piece.