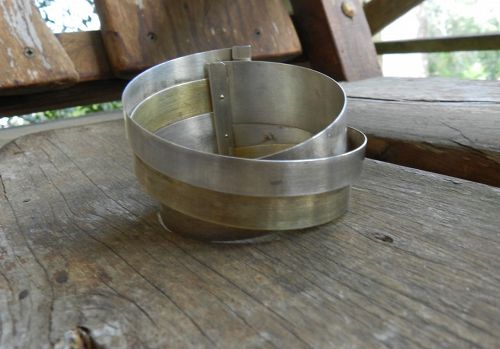 click for details
A sterling silver modernist hand wrought bracelet made of three sterling ribbons, one with a gold colored or brass wash, by the highly regarded Polish jewelry designer, Radosław Szwed.
Measures about 7 1/2" around when fully expanded. Measures 1 5/8" at the widest. The ribbons are tension set and can expand to put on. Can be worn with the seam side front, side or back.
Marked with the RS hallmark, SZWED and 925S.
Very nice condition, has some minor scratches and some tarnish...
A vintage sterling silver heavy bracelet in the Antonio Pineda concave links design. Measures about 7 1/2" around and 1 1/4" wide. Has a secure box clasp that snaps tightly and a safety chain. Marked with the Artisan's registration number, TB-28, 925 and Mexico. Weighs 162 grams. In fine condition with minor wear and some tarnish. Eye catching and substantial!
A fine modernist sterling silver geometric link bracelet by noted jeweler Brenda Schoenfeld from Taxco, Mexico. She is the niece of the brothers from Los Castillo and her work is of the same high quality. Made up of six different geometric shaped sterling 3D links. Measures 6 3/4" long and 7/8" at the widest. Marked Brenda Schoenfeld, 925, Mexico and 1992. Clasp holds securely. Has some minor tarnish, and a little bit of surface scratches. Very unique modernist design.