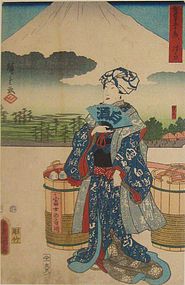 HIROSHIGE I/TOYOKUNI III "53 STATIONS BY TWO BRUSHES"
---

Please refer to our stock # FB(b)2 when inquiring.
Sold, Thank You.

Original Japanese woodblock print by the twin brushes of Hiroshige I and Utagawa Kunisada (Toyokuni III), from the series "The 53 Stations of the Tokaido by two brushes", 1854. This is station #14, Hara, vertical oban, censor seal Aratame, published by Maruya Kyushiro. Hiroshige created the upper half of the print (landscape with Mount Fuji) while Toyokuni III was responsible for the figure and the foreground. Signed by both artists. Beautiful colors, slightly trimmed, some soiling bottom right, one small worm hole upper left. A rare image with beautiful color and impression.