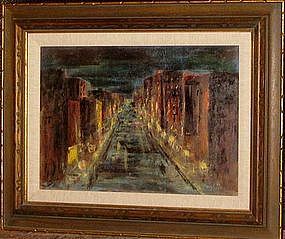 EDMUND YAGHJIAN, "VIEW OF 57TH ST. NEW YORK",
---

Please refer to our stock # 21184 when inquiring.
Sold thank You.

Original oil and lacquer painting on board by Edmund Yaghjian (Armenian-born American artist and educator, New York and South Carolina, 1905-1997). This painting depicts a nocturnal plunging view of (presumably) 57th Street in New York City, where he lived in the thirties and fourties. 14" by 20" painting alone, 20" by 26" in its frame. It is signed "Yaghjian" l.r. Circa 1935. From a South Carolina estate. Yaghjian was born in Armenia and was brought to the US at the age of 2. He studied at the RISD, and at the Arts Students League where he became friends with John Sloan and Stuart Davis. Like his mentors, he depicted the life of the city in his early New York period, and often the city at night, as in this work. After a successful career in New York he moved to South Carolina to become the first head of the Art Department at USC in Columbia (his students included Jasper Johns, J. Bardin, Sigmund Abeles, etc.) Yaghjian is an important figure in 20th Century American art. Well exhibited, collected, and listed.