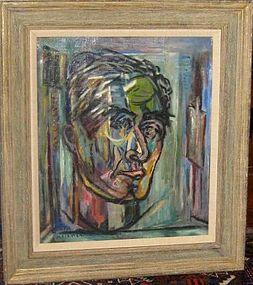 EMIL KELEMEN "SELF-PORTRAIT 1961"
---

Please refer to our stock # 21197 when inquiring.
Sold, Thank You.

Original oil painting on canvas by Emil Kelemen (Hungary-USA, 1895-1975), signed l.l. dated 1961 on the verso. Also signed "Emil Kelemen" and inscribed "To Tullah and Ed" on the verso. 27" by 23 1/4", canvas alone, 36" by 32" in its period frame. This we believe is an important painting by a noted Hungarian-American artist. It was formerly part of the permanent collection of the Fine Arts Museum of San Francisco (M.H. de Young Memorial Museum) (Former de Young accession number: 69.30.107). This painting still bears a number of labels and inscriptions including: a label on the stretcher reading: "72.66.290 Hanley Gallery of Modern Art"--Tullah and T. Edward (Ed) Hanley, to whom this painting is dedicated (she gifted it to the de Young in 1969) were important art collectors; another label reading: "M.H. de Young Memorial Museum/ Self-Portrait. Emil Kelemen/69.30.107 Hanley Gift"; together with various other more arcane inscriptions. In excellent original condition. T. Edward Hanley favored self-portraits in his collecting: he once owned self-portraits by Courbet and Manet, both of which were also donated by Tullah Hanley to the De Young Memorial Museum in 1969 after Edward's death. Provenance: Tullah and T. Edward Hanley (Bradford, PA) M. H. de Young Memorial Museum (Dr. T. Edward and Tullah Hanley Memorial gift, 1969) Probably de-accessioned by Achenbach Foundation for the Graphic Arts. This painting is listed in the SIRIS (Smithsonian Institution Research Information System) database.
Similar Items from this seller