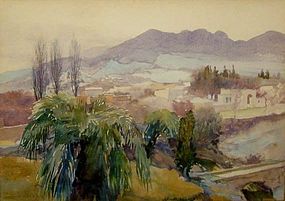 JOHN SCOTT WILLIAMS, "BERBER VILLAGE NEAR TLEMCEN"
---

Please refer to our stock # 21219 when inquiring.
Sold, Thank you

Original watercolor by John Scott Williams (English-born US painter and illustrator, 1877-1975). This painting is titled "Early Morning-Berber Village near Tlemcen, Algeria". Signed "J. Scott Williams" l.c. In excellent condition. 24" by 30" in its original frame. John Scott Williams was born in Liverpool but spent most of his adult and professional life in the USA (mainly NY and New Jersey). He studied at the AIC with Fred Richardson. He was a member of the ANA, NA, AWCS, Salmagundi Club, etc. He was known as an artist, as an illustrator who collaborated with his wife Clara Elsene Peck (1883-1968) on a number of works for the main magazines of the day, and as a participant in the WPA program--he contributed murals to the USPO in Newcastle, De; and four murals and five stained glass windows to the Indiana State Library and Historical Building. Well listed (Who Was Who in American Art, which shows an example of the artist's signature, etc.), exhibited (PAFA, AIC, AWCS, Salmagundi Club, etc.), and collected. One of four works by this artist currently offered on this web gallery.