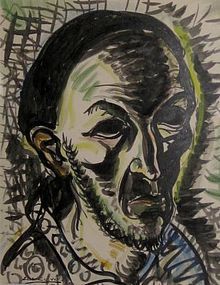 GIO COLUCCI "SELF PORTRAIT"
---

Please refer to our stock # 21261 when inquiring.
Sold, Thank You

Original watercolor by Gio Colucci (French artist born in Italy, 1892-1974) in excellent original condition, circa 1950s. 15" by 12" work alone (23" by 20" in its gallery frame). Provenance: from a Midwestern corporate collection. Signed Gio Colucci l.r. Gio Colucci is known as a painter, etcher, sculptor, and ceramicist. He was born in Florence but studied art and architecture in Paris where he became part of a group of painters which included Gleizes, Delaunay and Duchamp. He returned to Italy in 1956 to establish the Italian Art School with Gino Severini. A retrospective exhibition of his work was held in New York in 1959, year in which he also exhibited at the Rome Quadriennale.