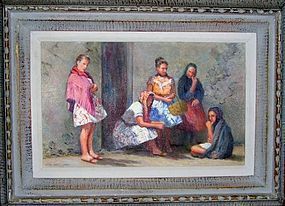 LOTTIE MEYER CATOK, "LET'S NOT WORK TODAY."
---

Please refer to our stock # 21283 when inquiring.
Sold Thank You

Original oil painting on panel by Lottie Meyer Catok (USA, Massachusetts, 1932?-2000). This painting measures 10" by 16" (painting alone) and 17" by 23" in its original frame, circa 1960. Signed l.l. In excellent condition. Still bears on the verso an exhibition label from the Copley Society of Boston which states the title of the work and the name of the artist. Also a biographical printed artist statement from the artist's studio. Lottie Meyer Catok was born in Hoboken, NJ but was mainly active around Boston. She studied with Guy Wiggins, W.Lester Stevens, and Robert Brackman. She was a member of the Salmagundi Club, the Copley Society of Boston, the Royal Soc. Art (London). She is listed in Who Was Who in American Art and all the usual reference works. A wonderful painting probably create during one of her European trips (Portugal?).