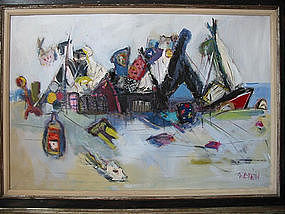 Alexander Redein, "Busy Island"
---

Please refer to our stock # 1441 when inquiring.
Sold, but we have two other works by this artist.
Sold, but we have two other works by this artist.

Original oil on canvas with collage elements by Alexander Redein (American/ 1912-1990), measuring 24" x 36" (canvas) and 30" x 42" in its Henry Rothman frame. Excellent condition. Signed l.r., titled "Busy Island" and dated 1970 on verso. Redein took part in the 28th Street group of modernists who congregated at the Henry and David Rothman Frame Shop (along with Remo Farrugio, Byron Browne, Herbert and Henry Kallem--we currently have a couple of works by this artist in our inventory--Joseph DeMartini, Michael Lekakis, etc. Redein also painted in Provincetown, Woodstock, and Fire Island. He had dozens of one-man and group shows, at galleries like Greer Galleries, PAFA, NAD, AWS, Butler AI, Farnsworth Museum, etc. His works are represented at the Whitney Museum, the Corcoran Institute, the National Academy, the Brooklyn Museum of Art and Ain Harod Museum in Israel. Redein is also identified as a painter of Jewish subjects. We also currently have a mixed media work on paper by this artist, "Nude in Interior", as well as a gouache (same subject) originally sold by the Ganso Gallery in NY.