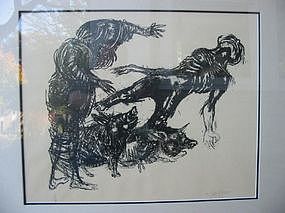 MARCELLO GRASSMANN, "Casting out the demons"
---

Please refer to our stock # 1285 when inquiring.
Sold, Thank You.

Original lithograph (16" x 19") by Marcello Grassmann (Brazil, born 1925). It is signed and dated (1952) in pencil L.R. and numbered 5/6 L.L. Grassmann is a well listed member of the Brazilian school. His lithographs have been widely exhibited (Venice, Paris, Sao Paulo, etc. We currently have in stock a number of mid-century fine prints, mainly American, by artists such as Reynold Weidenaar, Manfred Schwartz, William Gropper, Jane Baldwin, etc.