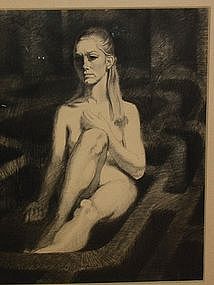 Fred Berger, Chicago, Nude Charcoal.
---

Please refer to our stock # 25197 when inquiring.
Sold

Original charcoal on paper by Fred Berger, a 20th century Chicago painter and academic who exhibited and won prizes at the AIC in 1960 and 1961. He also taught life-drawing at the American Academy of Art in Chicago in the seventies and eighties. Fred Berger specialized in allegorical figurative compositions, and this work, as well as the other by this artist currently offered on this site, are very representative of this style. This charcoal measures roughly 32" by 25" in its original gallery frame. It is signed and dated (68) l.c. It is also inscribed verso " #7/ Collection of Mr. and Mrs Irwin Schneider, Lincolnwood Illinois/ Artist: Fred Berger/ Title: Kathy/ Medium: Charcoal/ Date: 1968. Please see listing for the other work by this artist currently in stock.