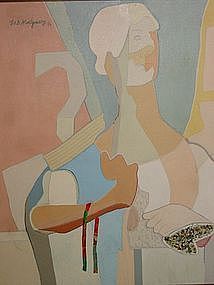 LORAN A.D. MONTGOMERY, "Woman with a Ribbon"
---

Please refer to our stock # 2622 when inquiring.
Sold, Thank You.

Original painting (Mixed Media Acrylic with ribbon and glass) by Loran A.D. Montgomery (American, NJ and PA, 1904-1999). This painting is signed "LAD Montgomery" upper left, and is dated 1976. It measures 36" by 30". It still bears an exhibition label which states the title of the work (Woman with Ribbon) as well as the medium, the name and the address of the artist, and the original price ($400). It is in good original condition and is offered in its original frame. Montgomery studied at the Chouinard Art School, at PAFA, at the Barnes Foundation, and in Paris, and was also active in the WPA. He is listed in all the usual reference works, has an extensive exhibition record, and is represented in a number of museums. We currently have four large works by this artist, as well as a number of smaller collages from the early eighties. Please inquire.